What is a Site?
In OpenPath, The Site is the beginning of the Transaction Logic. It gives you the flexibility to point your Transactions to different Paths according to your business needs. The most basic setup is to point your Site to a Connector.
This Walkthrough will guide you in setting up a Site in the OpenPath Admin Portal.
1. Login to the OpenPath Admin Portal at https://client.openpath.io/ and input your username and password and click Sign In.

2. Navigate to the Left Menu and choose Sites.

3. Click on the Plus "+" sign to Add a new Site. The Add New Sites window will popup.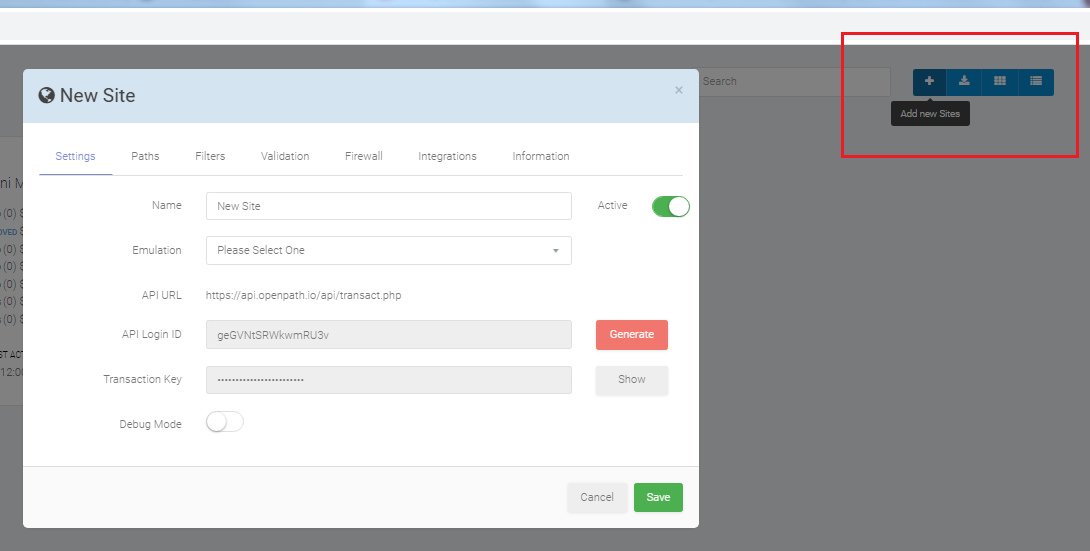 4. On the Settings tab, you can change the name of the Site. You can choose the Emulation type from the dropdown menu (Select :NMI Emulation" regardless of your gateway or processer).
Clicking on the API Login ID and Transaction Key copies them in your clipboard. You can also choose to Show or Hide the Transaction key. These details will be required information for connecting a Shopify store or other sales platform.
It is recommended that you turn Debug Mode On.
5. The Paths tab allows you to choose which Path your Site points to. You can direct your Transactions to either Filters, Queues, Routes, Load Balancers, Rejections or Connectors. The simplest Path is to connect your Site to a Connector.
6. Choosing the Next Path Type will prompt the Next Path ID to load with the options to connect to a specific Path ID that you have previously setup from the dropdown menu. Select your previously created Connector. Click SAVE.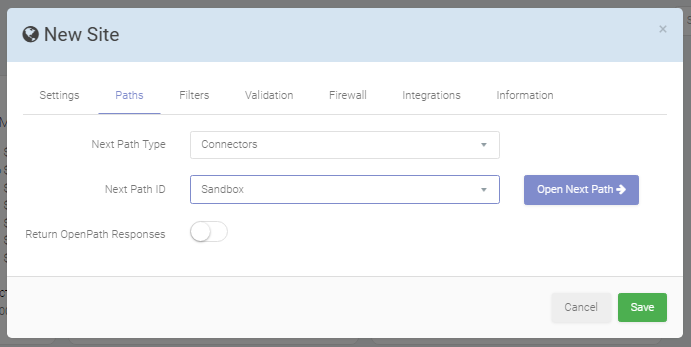 Congratulations! You have now created a new Site.